---
Event
It lies ahead of you – your 2024 racing season!
So why think about the end of the season already today?
Quite simply – because your season deserves a perfect and steep finale.
And that's exactly what you get at DeutschlandRUSH
powered by KitzSki and Kitzbüheler Alpen – Brixental from August 31 to September 5, 2024
From the largest soccer stadium in Germany to perhaps the steepest cult climb in Austria.
6 days – 909 kilometers – 11,000 meters of altitude – advanced teamwork
---
---
What you bring:
Low-traffic, fast back roads will make your heart beat faster
For your perfect performance you don't need a stopwatch or a race number
Your feel-good average in groups is between 26-30km/h
You like to spend your day in the saddle in a good mood
Teamwork and a "Belgian top" are no foreign words for you
You love to focus only on road biking
---
Here you get everything you need for your perfect adventure:
Professional photo & video recording during the tour
Support and route guidance by experienced guides
Luggage transport
Escort vehicle and technical support
Cozy accommodations
Varied stopovers
Important for regeneration: lots of good food
---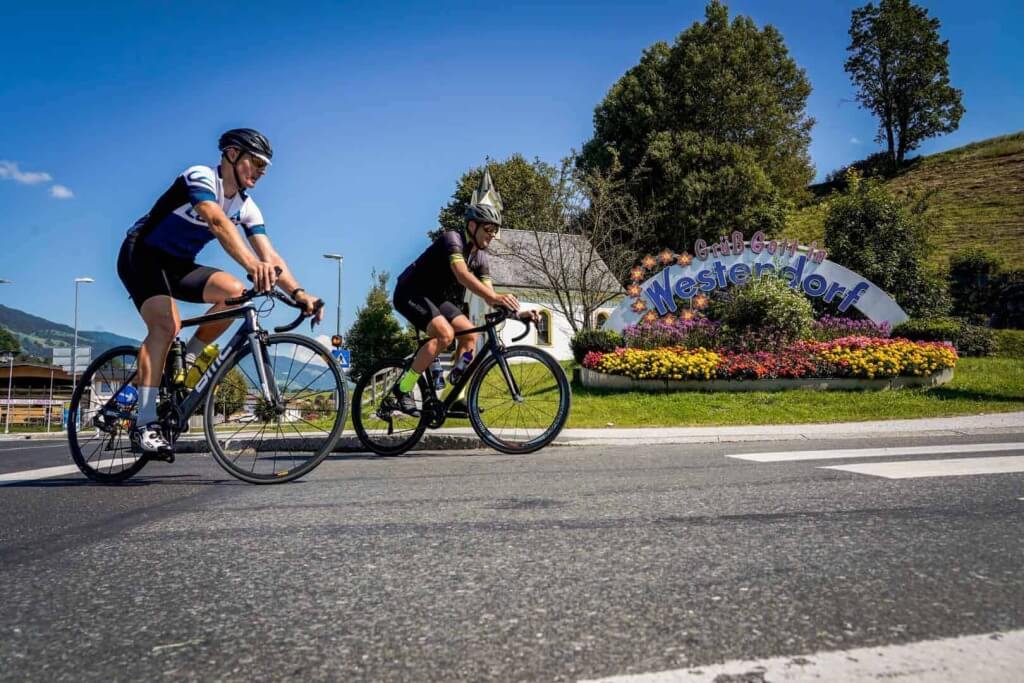 ---
We start in the very west of the republic:
In the legendary Signal Iduna Park Dortmund, the stadium of the BVB.
From here on you will experience Germany up close from the saddle. For six days it's all about full pressure on the pedals.
You enjoy the perfect service of our team from the first to the last kilometer – your focus is fully on the dreamlike route, your fellow riders, the landscape and your thighs – we take care of the rest.
On six stages it goes for you once across the country to the Brixen Valley – Kitzbühel Alps.
Our route team has covered every meter of the tour and worked out fast routes on mainly low-traffic back roads.
Shortly before the finish, a real racing bike classic awaits you – the Kitzbüheler Horn.
The cult mountain is known as probably the steepest bike mountain in Austria.
30 hairpin bends and a max. A 22.5% incline will quickly push your largest sprocket to its limits.
This finale is a real challenge and demands everything from you – all the more great is your feeling when you reach the finish line in the Kitzbüheler Alpen – Brixental region after more than 900 km. This is advanced teamwork – for the love of cycling.
You are looking for a coffee trip? They don't exist here.
The DeutschlandRUSH is neither a race nor a leisurely tour.
For all ambitious racing cyclists the DeutschlandRUSH offers exactly the right group.
The DeutschlandRUSH is more than just a particularly beautiful and challenging tour through Germany. Above all, it's your perfect end to the season, your personal challenge in the fall.
Experience top sporting performance, team spirit and a real racing bike adventure – at the DeutschlandRUSH.
There is a reason for the effort: "We want to offer our participants something very special here, everyone should feel comfortable and welcome here, be well looked after and have a good time on the racing bike," explains the passionate racing cyclist and organizer Hans-Peter Kreidl, who does not miss the opportunity to ride the route himself every year.
"Our goal is not only to provide a unique experience for the participants. We also want to see beaming faces and tell gripping success stories. For me, the DeutschlandRUSH is a bow to sportsmanship, unique landscapes and human will."
---
---
Secure one of the limited places in our harmonious small groups quickly.
If you are not sure whether the DeutschlandRUSH is right for you or have any questions, just contact us directly. We are happy to answer any questions you may have.
Hans-Peter Kreidl +43 664 1432010 or hp@hpkreidl.at
---
Facts:
GermanyRUSH 2024
August 31 – September 5
Start: Signal Iduna Park, the stadium of BVB
Destination: Kitzbühel Alps – Brixen Valley
6 stages
1,000 kilometers
11,000 vertical meters
Average speed: 26-30km/h